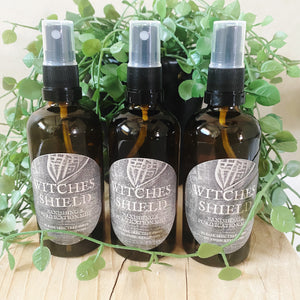 Amongst Sisters
Witches Shield Mist - 120ml
Regular price
$13.00
$0.00
Unit price
per
🪄 Embrace Your Power with the Protective Mist 🪄
🌟 Witches of Today, Empower Your Path 🌟
As modern-day witches, we navigate a world filled with negative influences that often encroach upon our daily lives. The Protective Mist is your mystical ally, guiding you to turn away misfortune and ill intentions with grace and strength.
🌿 A Cautionary Note: Prior to using this powerful mist, please consider the following:
💼 If you have any medical conditions, allergies, are pregnant or nursing, or are currently taking over-the-counter or prescription medications, it's essential to consult with your doctor. The interplay between herbs and medications can vary from person to person, and your health is of the utmost importance.
🌌 Spot Test for Safety: It is strongly recommended to conduct a skin spot test before applying the mist all over. Your skin is unique, and it's best to ensure compatibility before embracing the full experience.
🌺 Respect the Power of Essential Oils: Essential oils are gifts of nature with potent abilities. If you are pregnant or nursing, have a seizure disorder, or plan to use this on children under 10, consulting a doctor is a wise choice. Additionally, if you have allergies, please review the ingredients listed above and consider conducting a patch test for any new product.
🚫 Important Disclaimer: This product is not intended to diagnose, treat, cure, or prevent any disease and has not been evaluated by the Food and Drug Administration.
✨ Embrace the Protective Mist - Your Key to Empowerment ✨
Awaken your inner strength and embark on a journey of protection, healing, and empowerment. Order your Protective Mist today and unlock the magic within. 🛡️🌠🪄