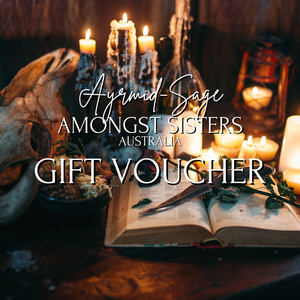 Amongst Sisters
GIFT CARD
Regular price
$16.85
$0.00
Unit price
per
🌙 Embrace the Mystical with Our Witchcraft Gift Voucher! 🌙
Are you ready to embark on a mystical journey, filled with enchanting spells, ancient wisdom, and bewitching treasures? Look no further, for our Witchcraft Gift Voucher is your key to a world of magical possibilities. Whether you're a seasoned witch or a curious novice, this is your ticket to endless enchantment.
🌟 The Magic of Choice 🌟

Let your recipient become the master of their own magical destiny. Our Witchcraft Gift Voucher allows them to explore our online emporium and select the items that resonate most with their inner witch. Whether they're into divination, potion-making, or spellcasting, the power is in their hands.
🌙 How It Works 🌙
Purchase the Witchcraft Gift Voucher.
Receive a beautifully designed digital voucher.
Share it with the lucky recipient.
Watch as they enter a world of enchantment and make their magical dreams come true.
🌟 Give the Gift of Magic 🌟
Perfect for birthdays, holidays, or any occasion, our Witchcraft Gift Voucher is a magical gesture that's sure to delight witches of all levels. It's not just a gift; it's an invitation to embrace the extraordinary and discover the power within.
🔮 Ready to elevate your magical journey? Purchase our Witchcraft Gift Voucher today and let the enchantment begin! 🔮